You might notice that the canvas sections are different at each end – the 'dining bed' has a grey back panel whilst the 'kitchen bed' has a cream back panel. We had to replace one of the ends and apparently the canvas company couldn't make them match, but as you never really view them simultaneously it's not been an issue.
Although it was drab, dated and a little rough around some edges, I never had intentions of renovating it. Unlike a neglected vintage van which you could easily go to town on, our Jayco wasn't very old or run down. It appeared to have been used sparingly and, in short, there was nothing actually "wrong" with it. I was a little worried that a reno might result in devaluation, or even worse, that I'd stuff something up!
The rings and clips are also from AliExpress. I wanted to use this kind of clip system so the curtains are really easy to change if ever needed or wanted. The also have a nice casual feel which I think works well for a caravan.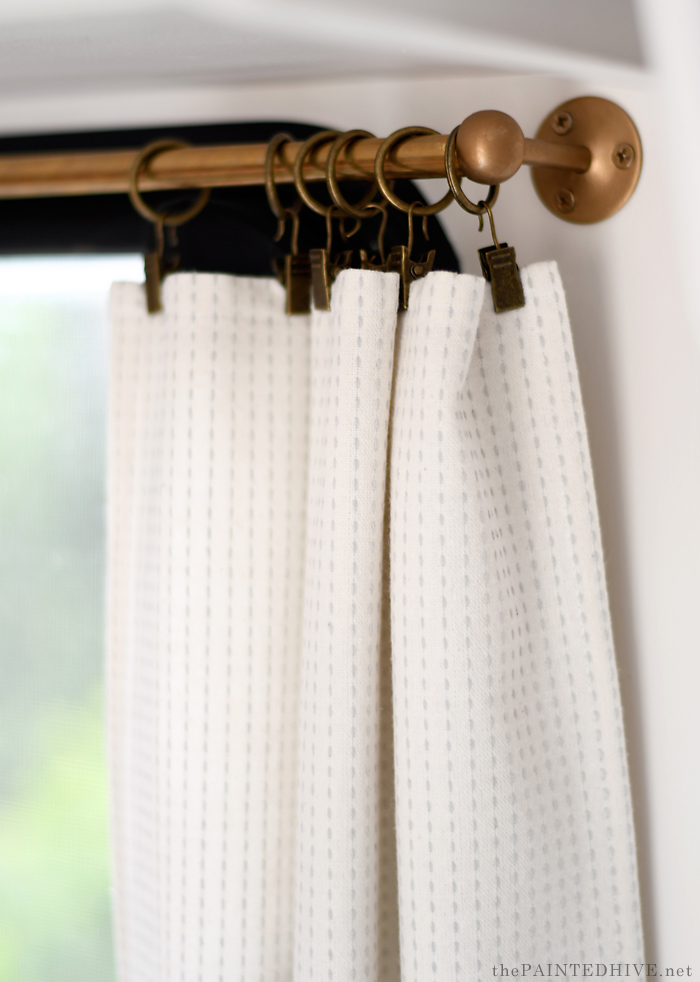 I supplied the fabric, wadding and zips (which all came from Spotlight). I really wanted a slightly warmer toned fabric, something like a wheat or oatmeal, and whilst Spotlight did have some options they were all sold out at the three stores I visited! I contemplated higher end suppliers but they were way out of my price range as I needed around 12 meters worth. It was a slight compromise though I am still happy with the neutral stone shade I settled on.
The new seat covers were the one aspect I ended up out-sourcing. Whilst I did consider making them myself, sewing is certainly not my DIY strong point (or, if I'm honest, something I even partially enjoy). And with the seats being such a major component in the van I was conscious of my potential sub-par efforts dragging down the overall appeal.
As touched on earlier in the post, there is a tiny bathroom (shower over toilet – the entry door is to the right of the fridge) though thankfully that was all white so we didn't need to do anything in there. We also haven't touched the exterior.
Before & After Images
I did my best using a combination of bedding we already had on hand along with some new linen from Kmart and Target.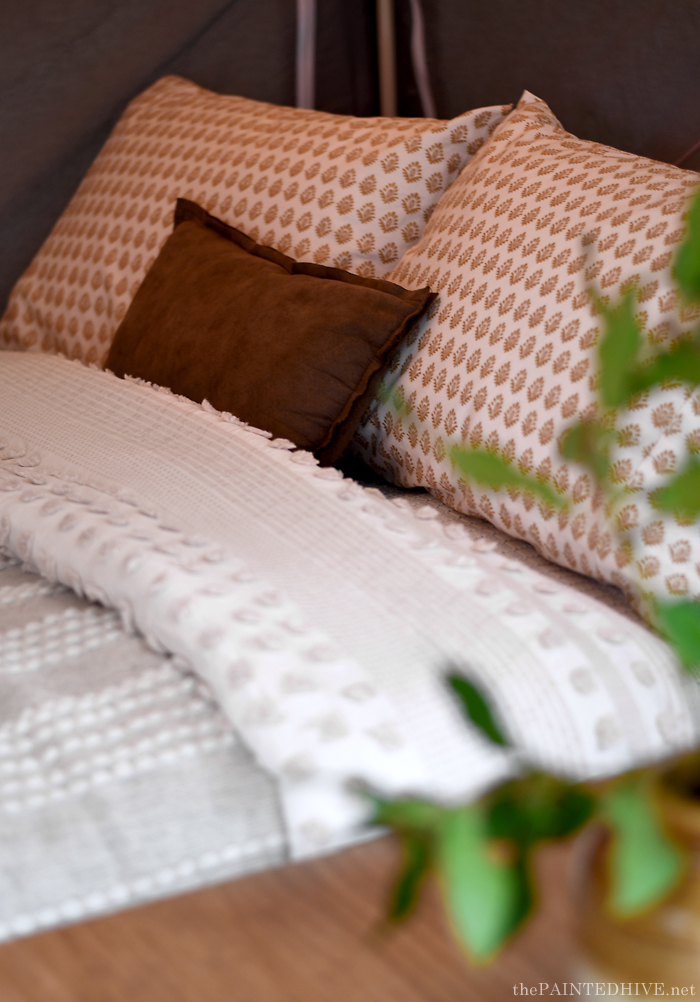 In addition to having the covers made I also bought new foam for the back rests (as I didn't like the original double rolled look) and I squared off the existing seat cushions by trimming down the front "humps" using an electric knife.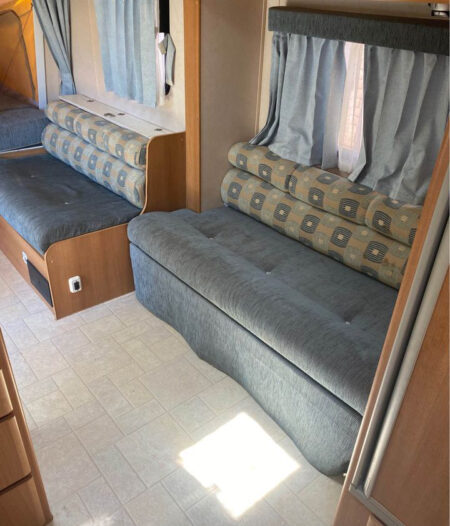 The original dining table isn't shown in the before pics though the top was made from the same material as the kitchen bench. To reintroduce some warmth and earthiness (as I'd painted over most of the brown "wood) I added a new timber table top which I simply cut down from a cheap pine table I bought on Marketplace.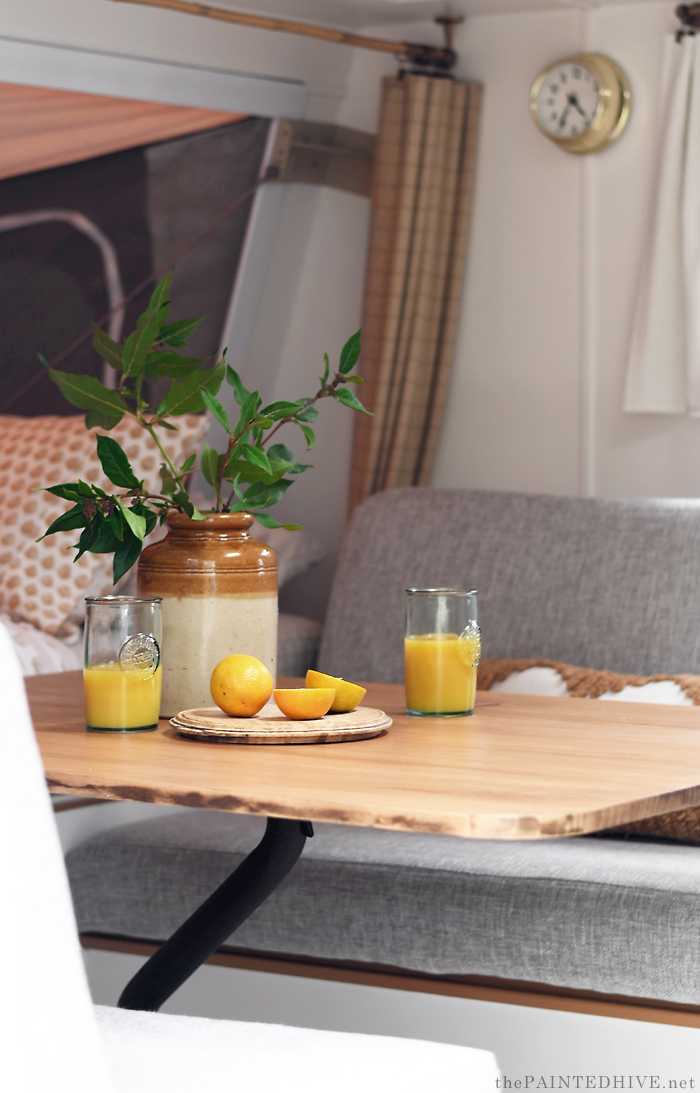 Our van is pretty big with LOTS of cabinets so I painted in sections so it didn't feel too overwhelming, and also so I had space to work within the van itself (as we don't have a garage or workshop).
I left the edges a bit rustic to give it some extra character.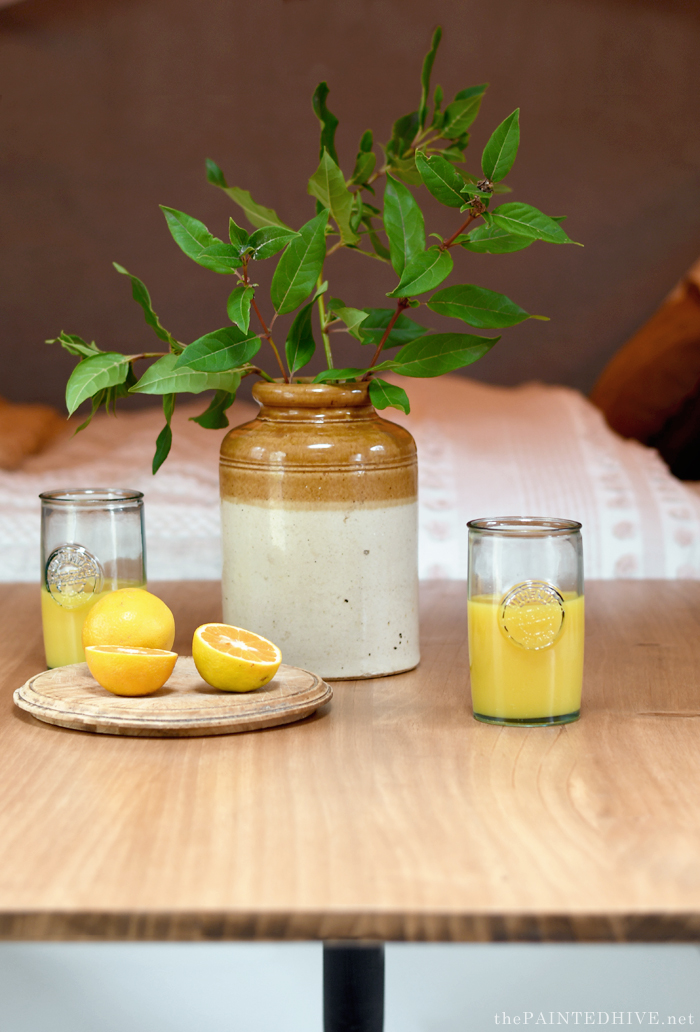 I didn't want to install standard curtain rods because the scale, in relation to the little windows, seemed off. Instead I used a 14mm/.05″ length of hollow brass bar from a metal manufacturer, which I cut to size using a hack saw for each window. I did contemplate lots of other options here (including timber dowel, plastic bar, steel rod, and even utensil bars and tea towel rails, and so on). In the end I couldn't find anything affordable "off-the-shelf" with the right gold finish. Ordinarily I would rely on paint though was conscious that in this case it would likely wear due to the constant movement of the rings. Plus I do love the authentic lustre the real brass provides!
I won't go into too much detail about the trip itself at this stage aside to say we travelled for around three months and it was bloody amazing! As a very brief summary…we started in Melbourne (Victoria), toured the Eyre Peninsular (South Australia), crossed the Nullarbor Plain, explored the West Coast (which was freakin' spectacular!), visited Karijini (which was freakin' spectacular!), journeyed to Darwin (Northern Territory), meandered down the center through Alice Springs and Yulara (Uluru), then slowly headed back home to Melbourne.
---
The frames are all thrifted. The watercolour over the stove was painted by my daughter.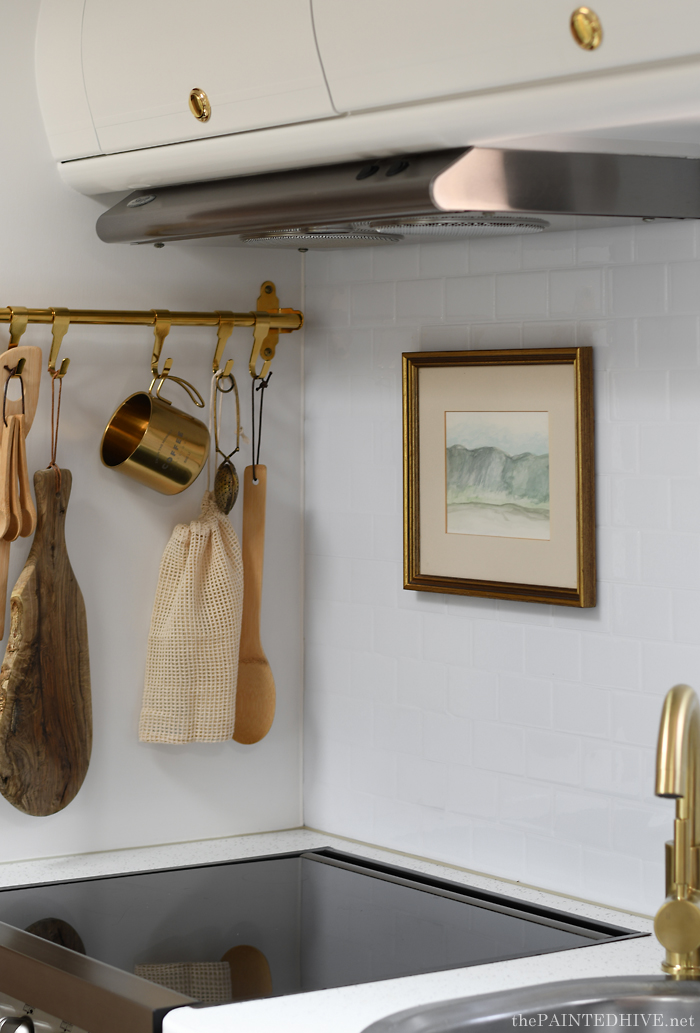 If I've missed anything or you have questions, as always, don't hesitate to ask.
As with the majority of my projects, I wanted to make the most of things by focusing on a budget-friendly, cosmetic refresh. And rather unusually for me, I had a clear design vision from the start – a fresh white and deep olive palette with hints of brass, timber and warm earthy neutrals.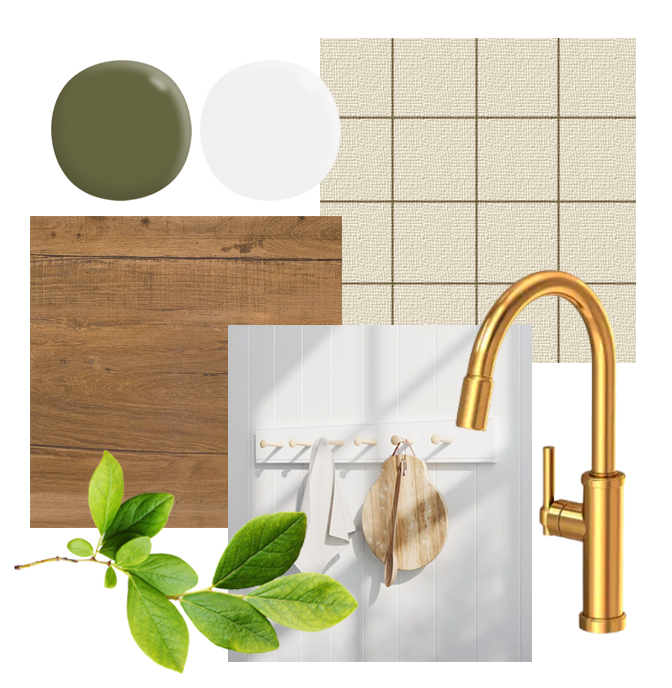 For the olive areas I used a grey tinted primer for better coverage.