Earlier this summer, we began helping our friends with their basement renovation. They built their home about a year and a half ago but left the basement unfinished and were finally ready to tackle it. So we teamed up to bring them the English Pub inspired basement of their dreams.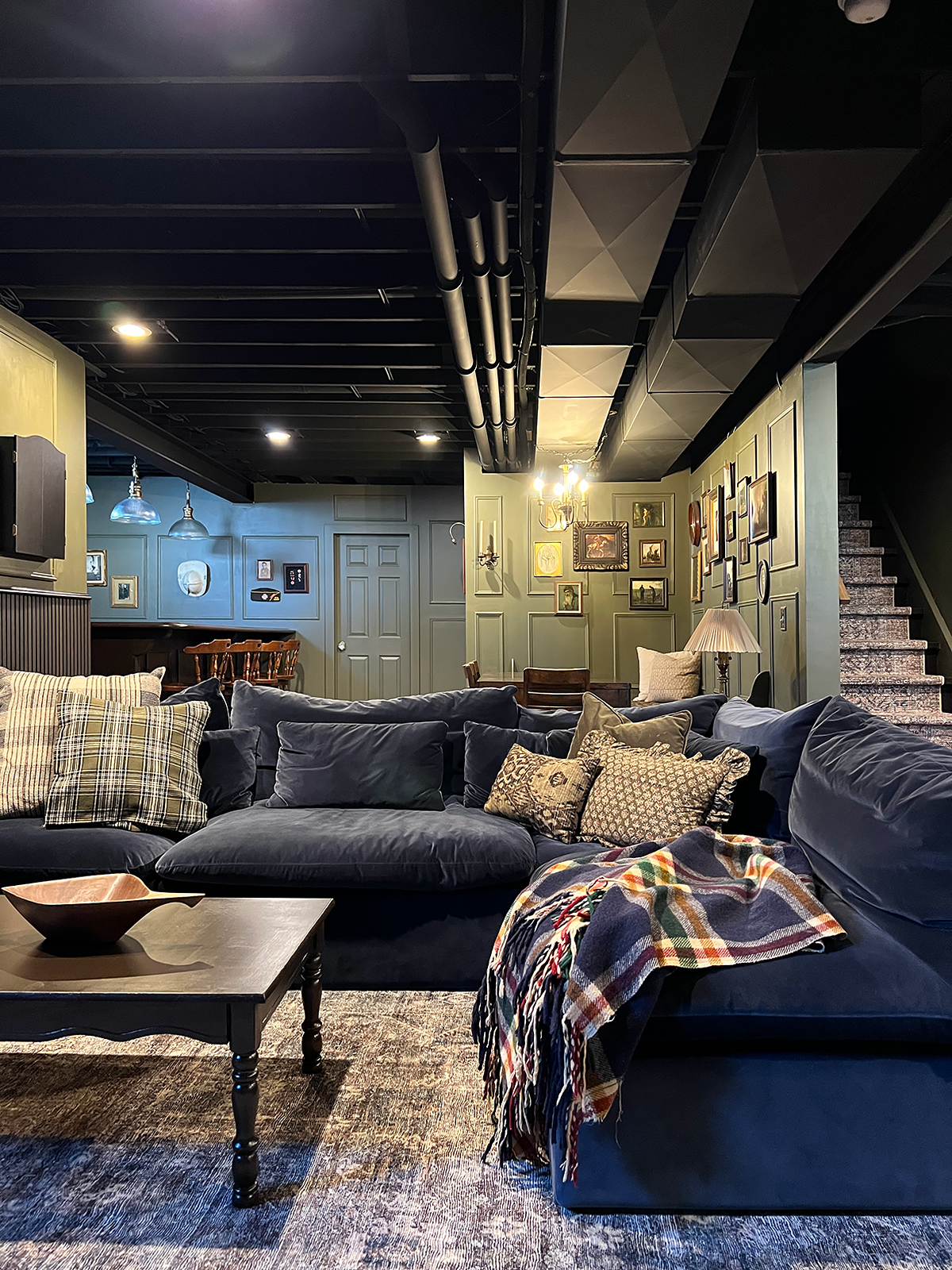 We're all big fans of Ted Lasso and that was definitely what we were channeling in this design. The Crown & Anchor bar from the show is exactly the vibe we were going for. Dark, moody, lived in and full of character.
We started out with your standard unfinished basement, aka a concrete box. Our friends hired out the framing, drywall and electrical and did all the painting themselves. They painted the ceiling in this really cool product called Dryfall. It's a paint that turns to dust as it dries so you don't have to worry about paint dripping onto your floor. Then it was time for Dan and I to step in and help bring my vision to life. Let me walk you through this totally transformed space!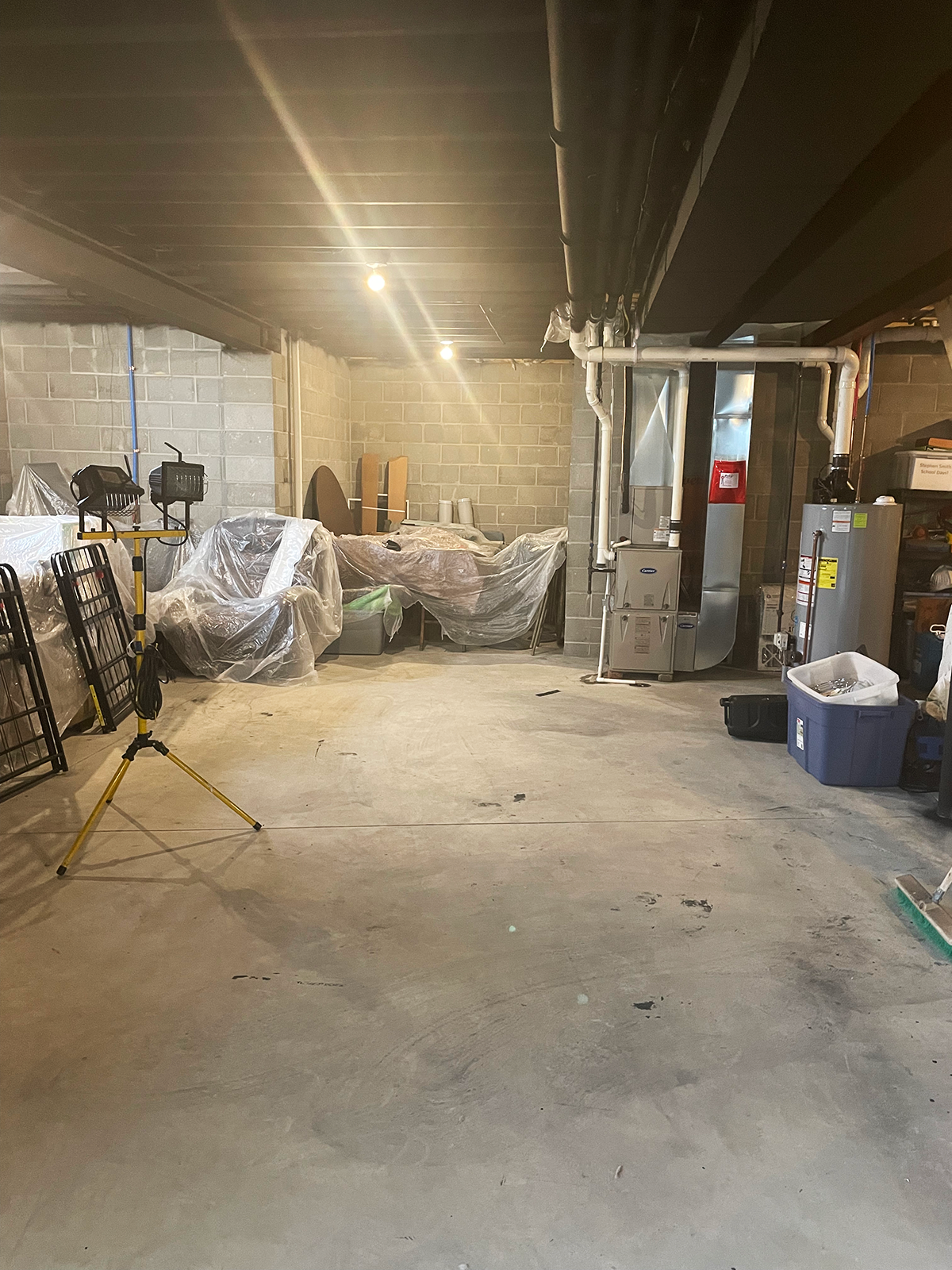 Let's start with the wall treatment. From the start I knew we needed to incorporate some deliciously dark wood to get the pub feel we wanted. So we teamed up with The Wood Veneer Hub and used their gorgeous acoustic slat wood wall panels in Smoked Oak. They have a recycled acoustic felt material backing which made them super easy to install. Much easier than the DIY wood slats we made for the playroom.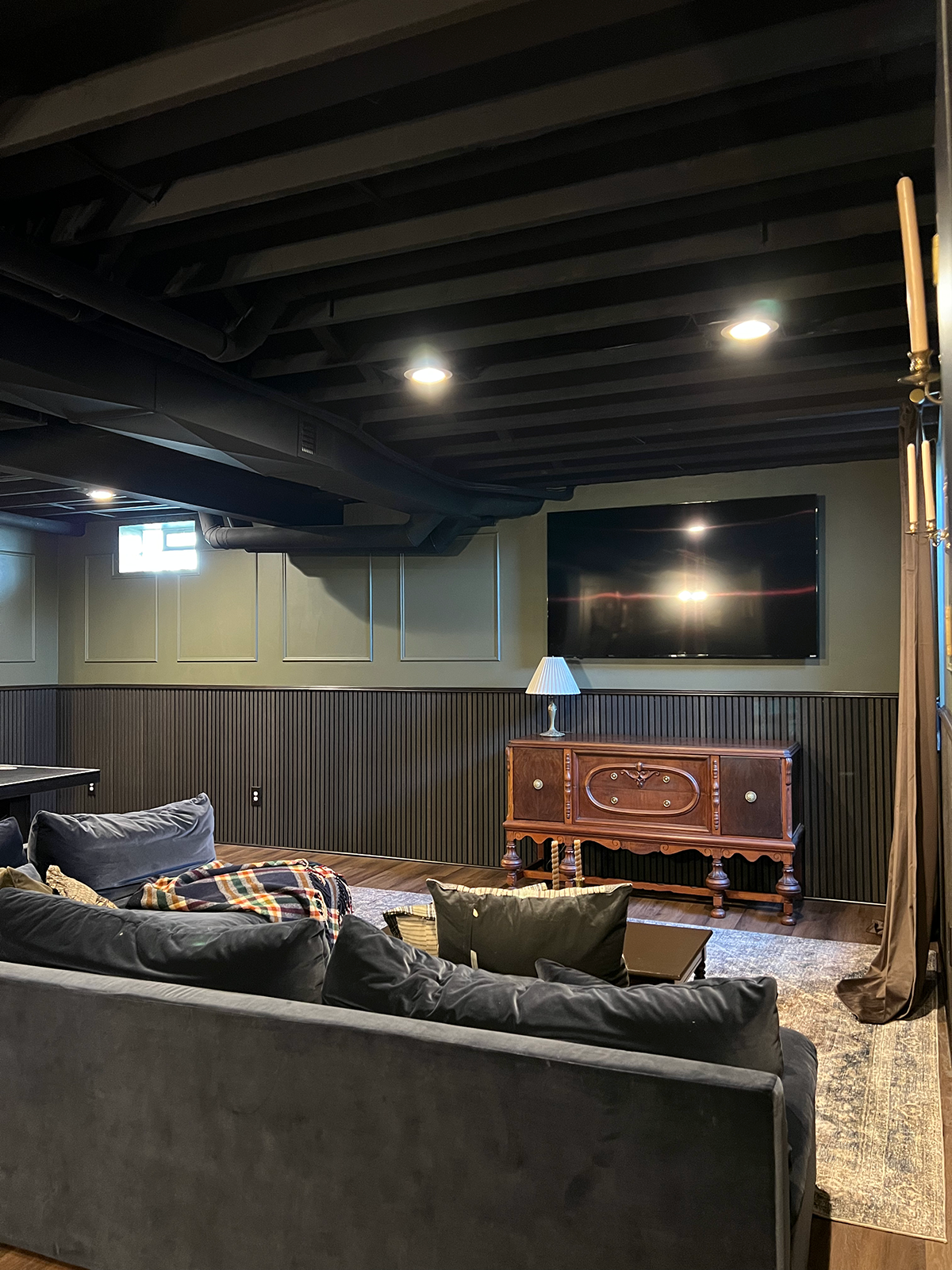 They instantly added so much character to our blank walls. To help finish off the look we added a piece of chair rail on the top stained in a similar color.
Our original plan was to wallpaper the top half of the walls, but we kept coming up short on a dark plaid wallpaper that we liked. That also wasn't crazy expensive. So instead we decided to just paint and add box moulding, which I like way better anyway. It's such an easy and fairly affordable way to instantly transform plain walls. It helped add to this space feeling like it's been here for years rather than brand new. We painted the top half Garden Gate by Sherwin Williams.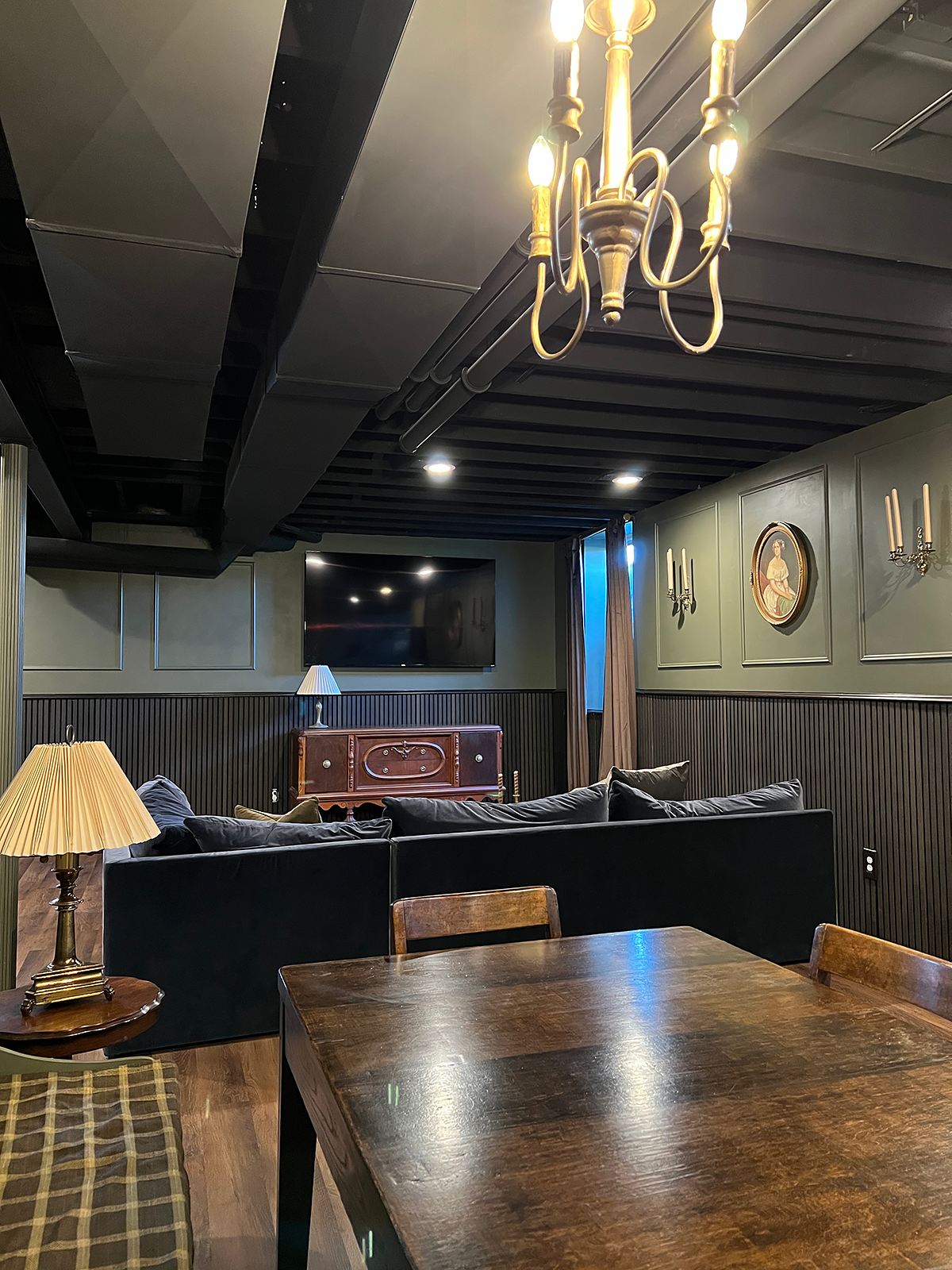 I have to give a huge shout out to Dan on building this incredible bar. I've never designed one and he's never built one but we're pretty dang proud of how it turned out. The basement already had the perfect nook to put it and we used all that space to it's maximum potential. We added lots of trim and moulding to give it character and charm and stained it in my favorite Dark Walnut Gel Stain.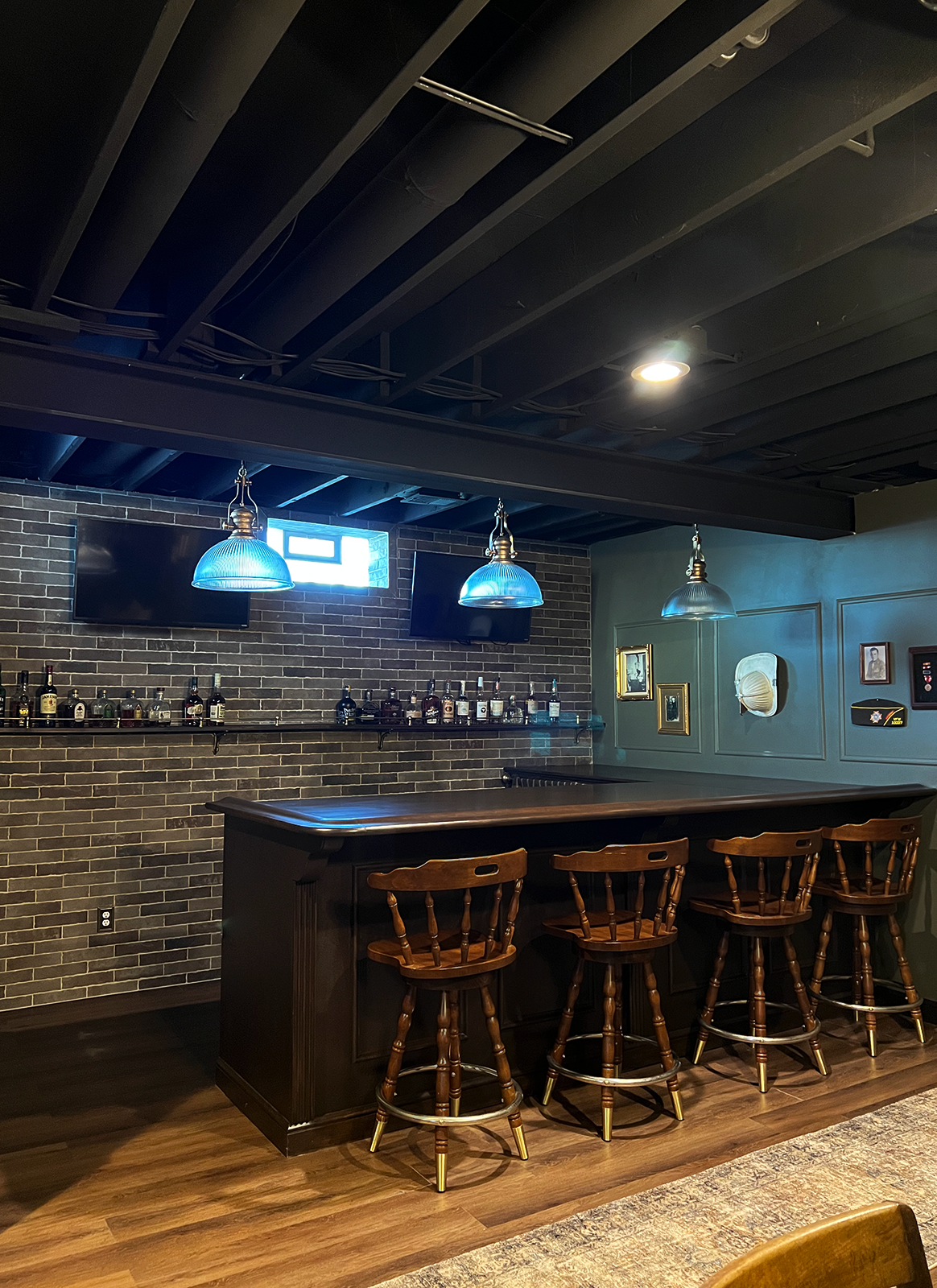 The back was left entirely open for storage and a mini fridge and all their bar accessories.
Dan's dad tiled the back wall in porcelain brick look tile to add even more old world charm. We hung a wall to wall liquor shelf along the back with a DIY shelf rail.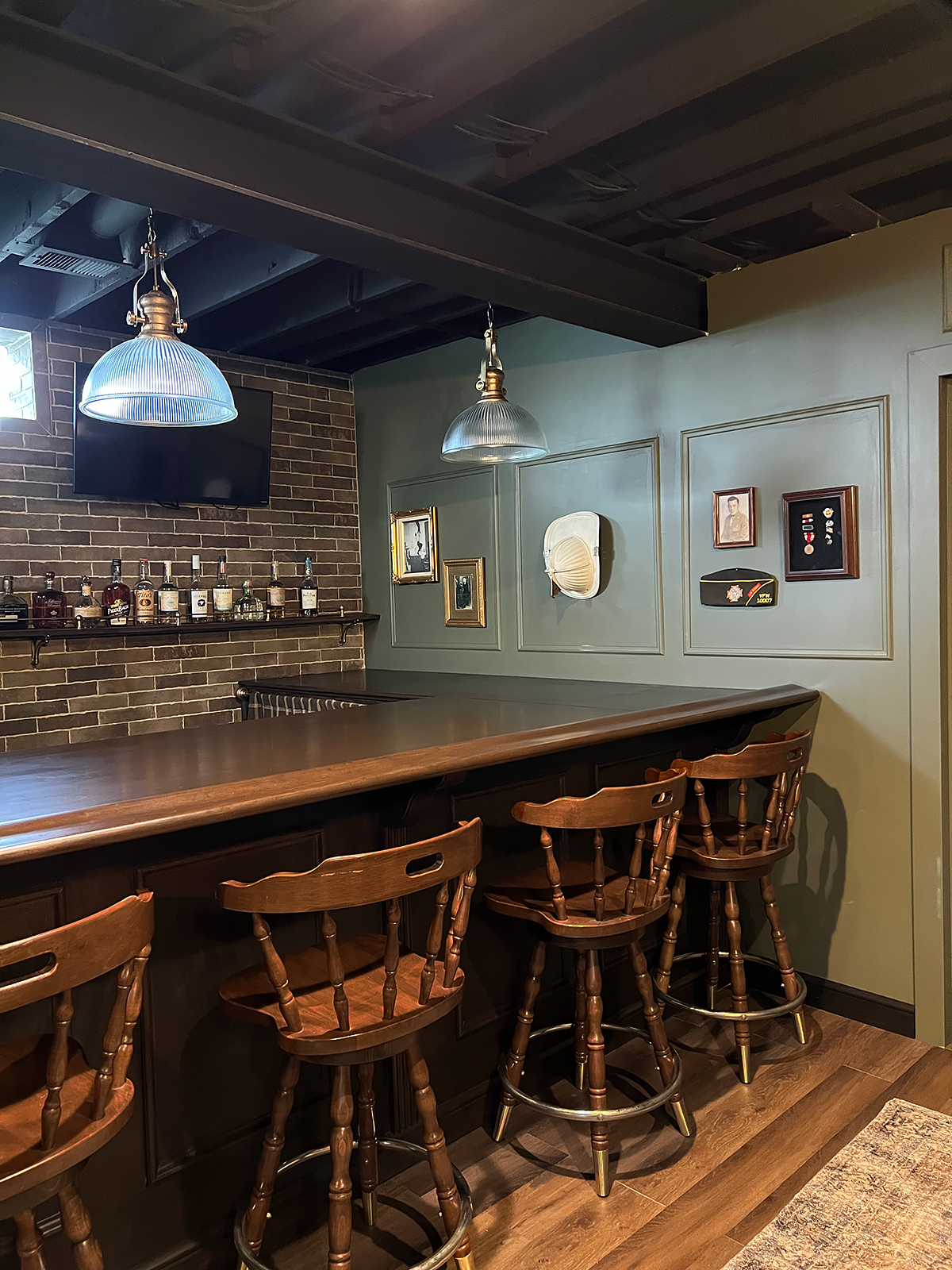 My favorite part about the bar is all the old family photos we hung. We even hung our friend's grandfather's old firefighter hat. Those special pieces are truly what make a space come to life and make it feel unique.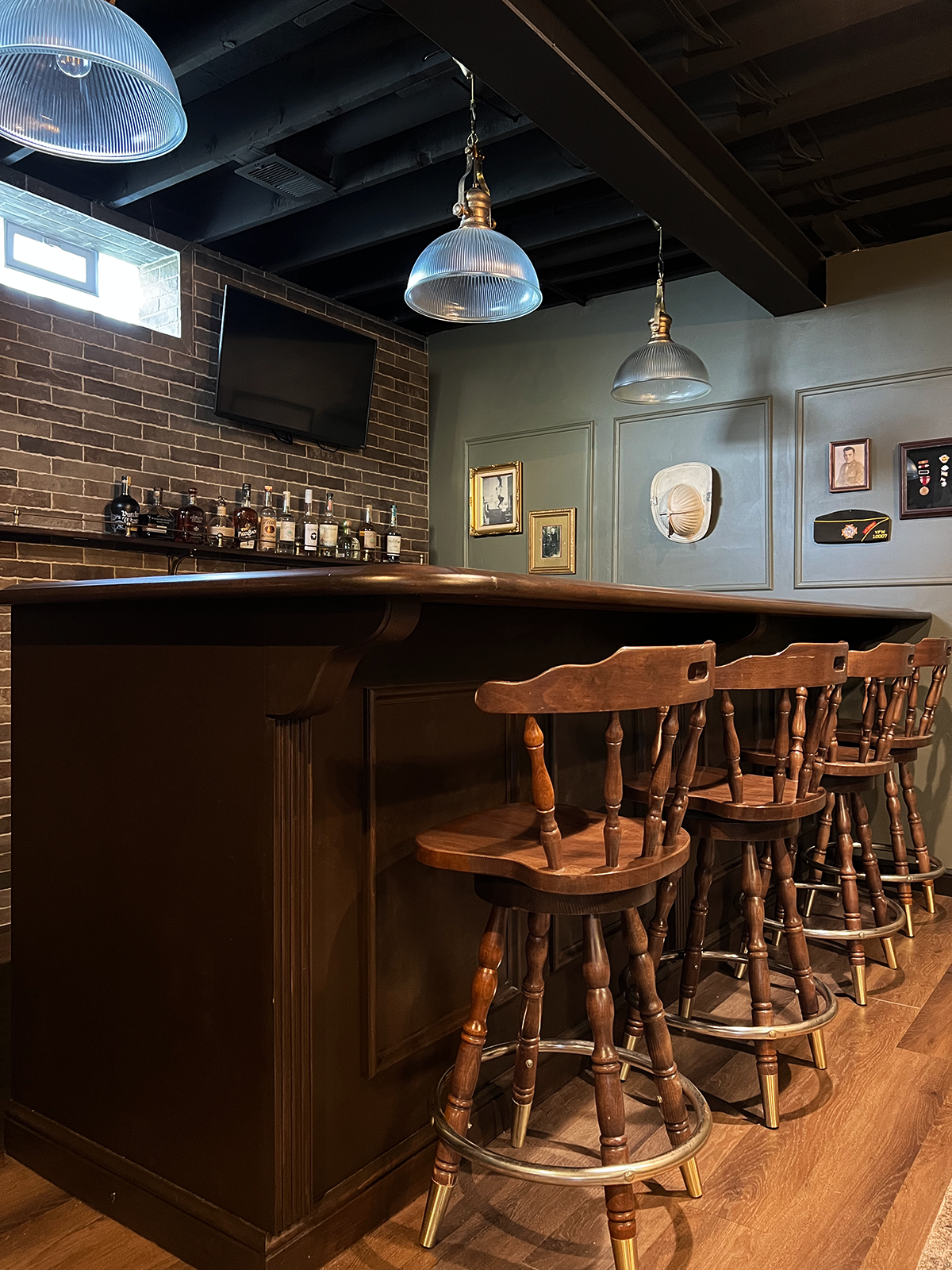 Over to the built in bench area. Dan tackled this build as well and I love how it came out. We added little furniture feet on the corners to make it appear more like a piece of furniture and some curved sides. Our friend's had this beautiful old table and chairs from a local library that fit in absolutely perfectly.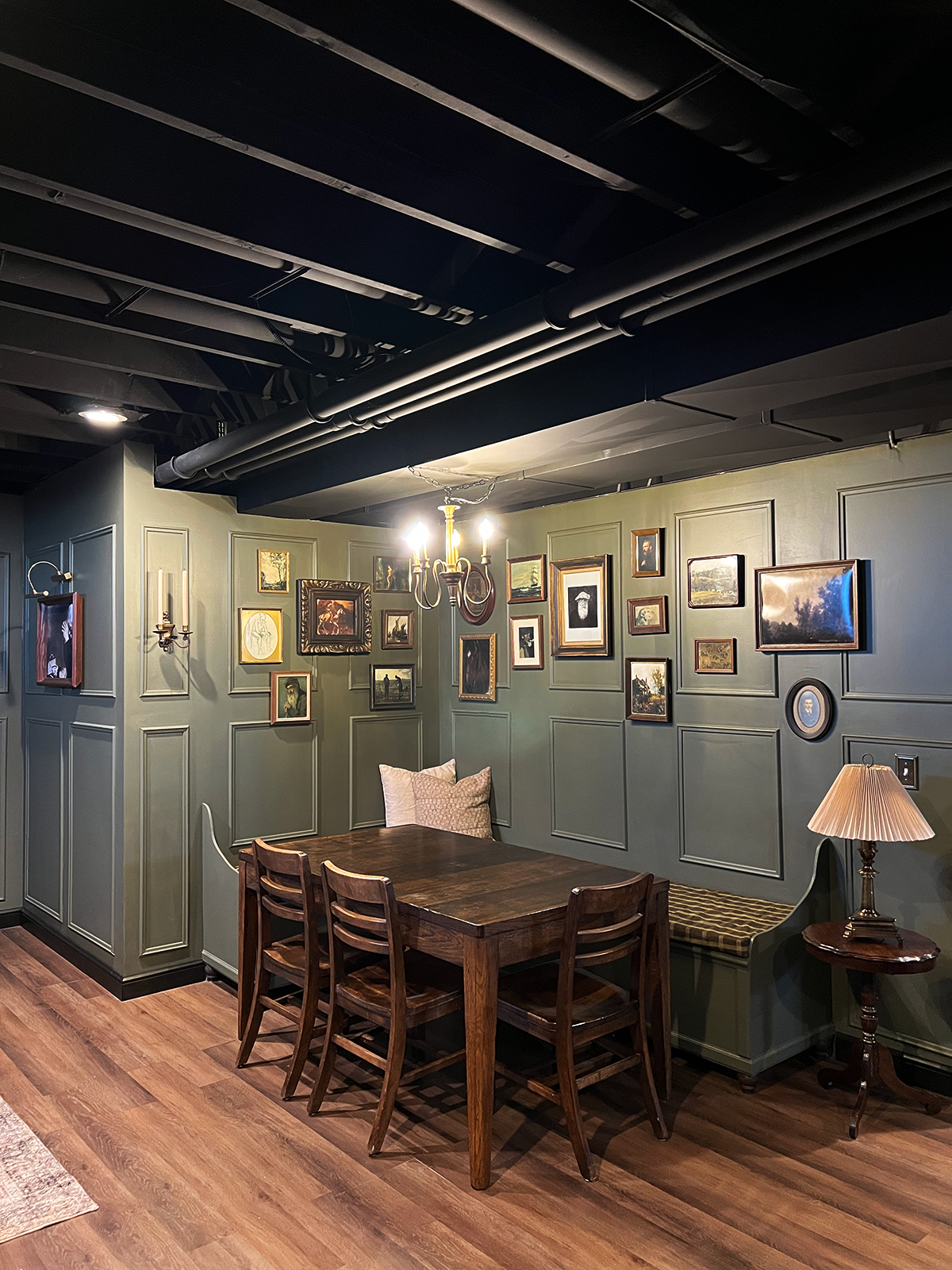 This is definitely my favorite spot in the whole basement. I created this vintage gallery wall with antique photos mixed with downloadable prints from Etsy and it just makes it feel like the best spot in your favorite pub where you spend hours and hours with friends drinking and making the best memories.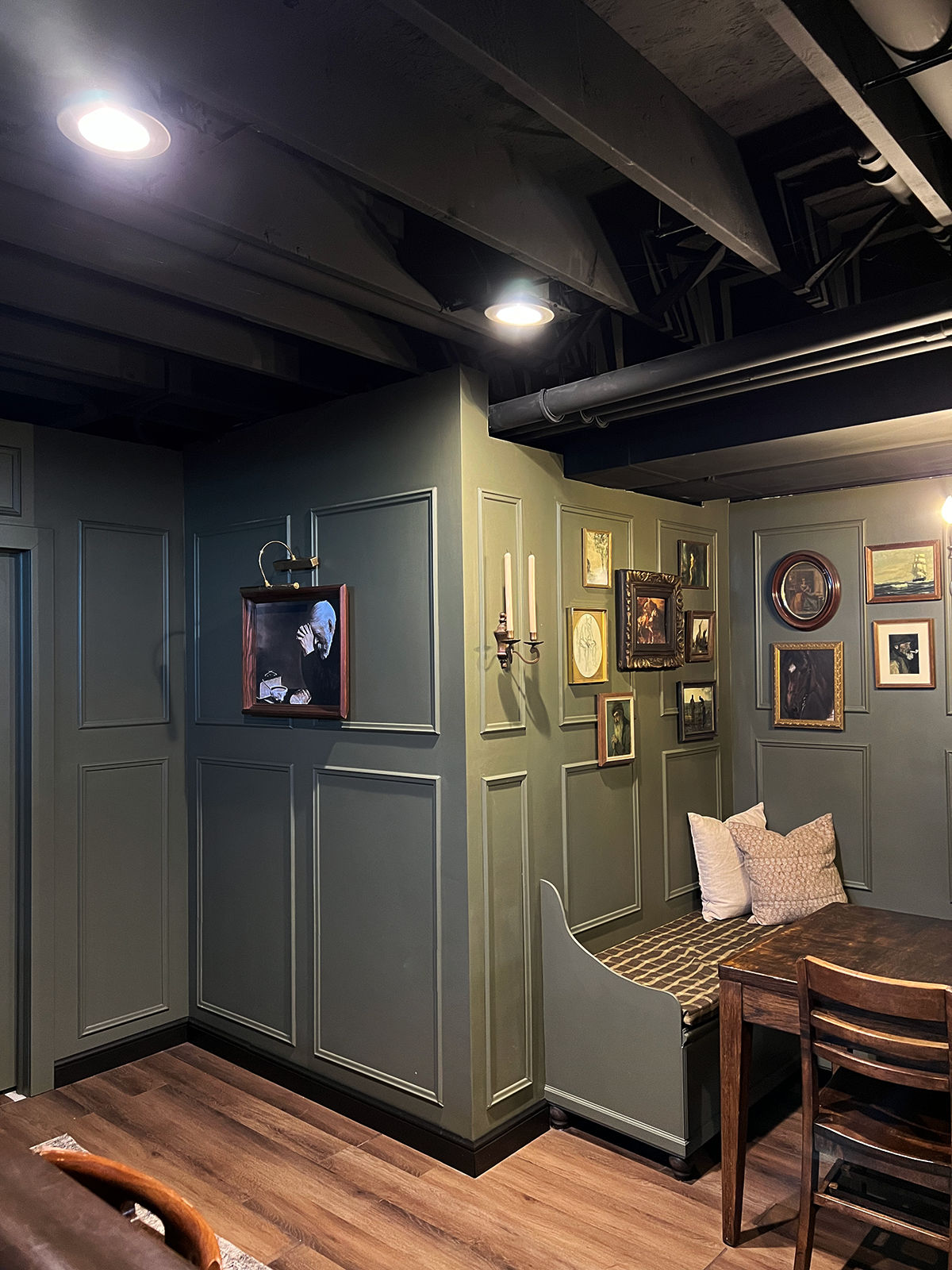 One of the first pieces got for this space was this gorgeous velvet blue sectional. It's the Aria L Sectional from Six Penny and it is a SHOW STOPPER. The fabric is a cotton washed velvet in the color Star Sapphire. We basically built our whole design around it. It's beautiful, it's functional and it's insanely comfortable. Our friend's have been enjoying lots of movie nights, naps and family hangs on it and it's held up so well to their family of 5 plus a new puppy!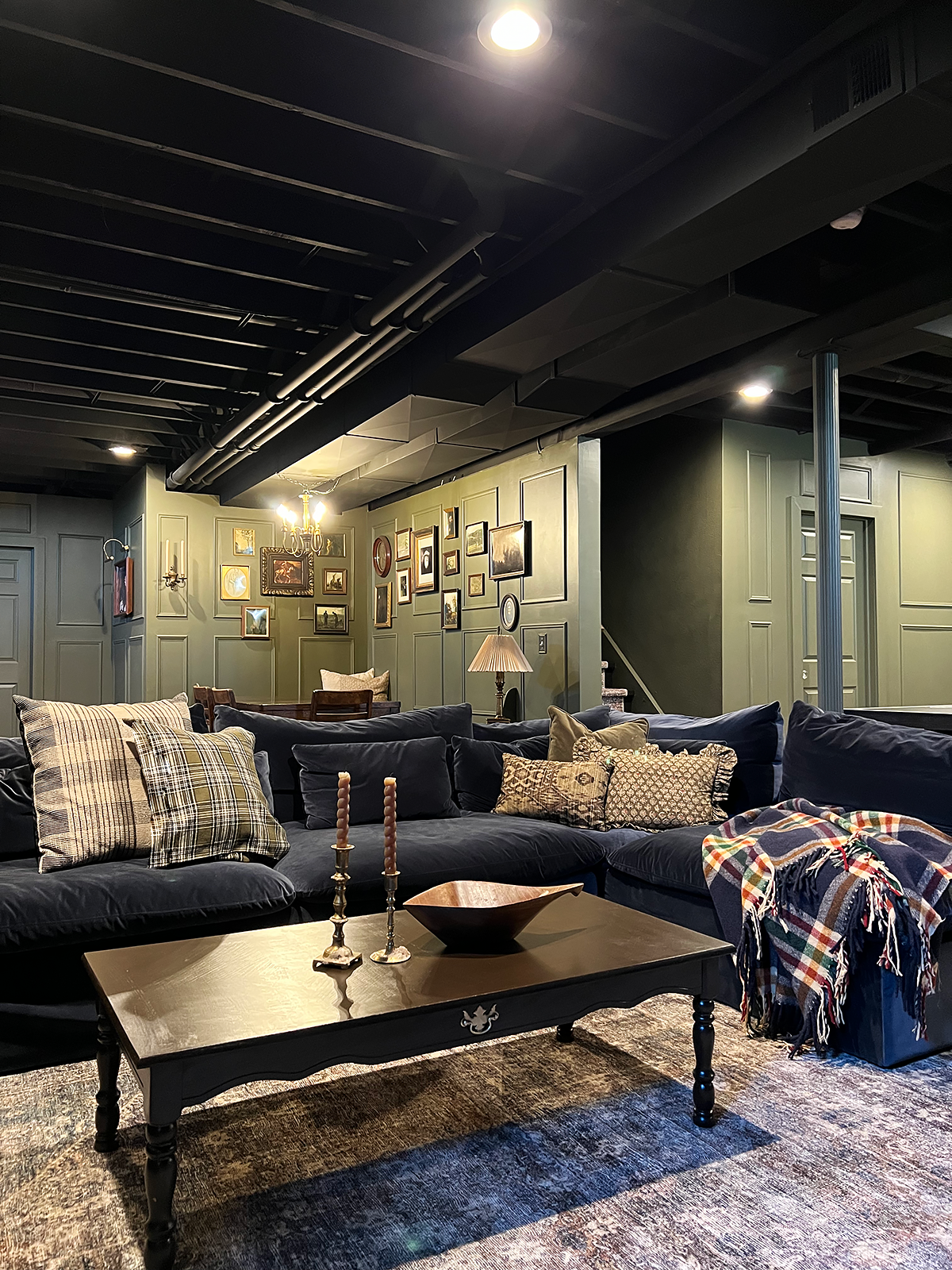 Next to the lounge area is the game space where we put a ping pong table and a shuffleboard table. I love how there are 4 designated areas that all have their own function, but they all flow so well together to create one cohesive design.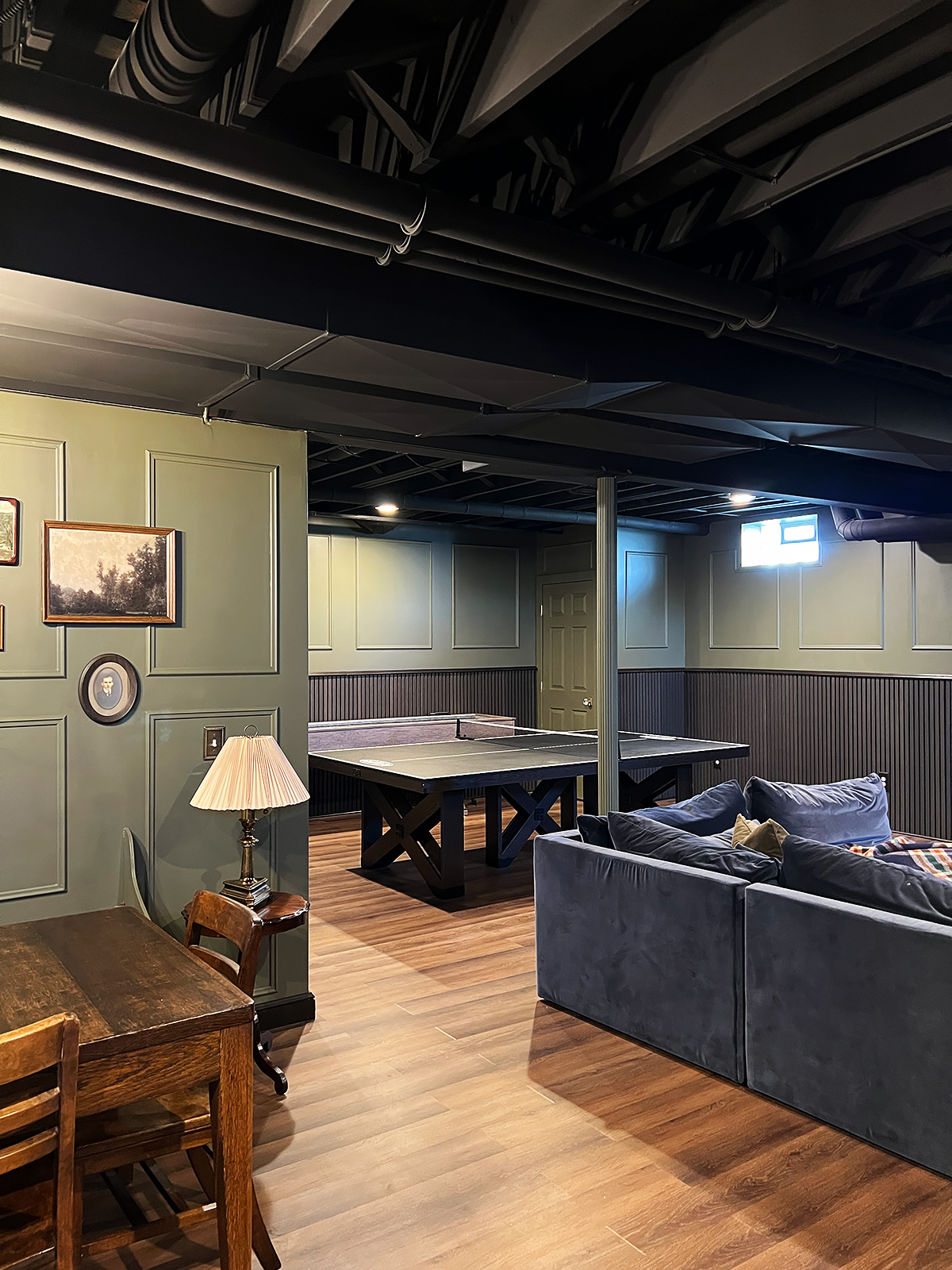 All the decor and finishing touches were so fun to really help bring this space to life and make it feel like an English Pub. All the furniture we used was antique or second hand and we added some vintage lamps to help set the mood as well as lots of candelabra sconces on the walls.
This project took us out of our comfort zones because we've never tackled a basement before. Papa lives in ours and that's a space that will always remain his to do with as he pleases. So for now, it remains full of red and black and lots of bobble heads :-p
But I'm so grateful our friends let us take the reins on designing their basement – it was such an amazing experience and we can't wait to celebrate at their Christmas party next month!
SHOP THE BASEMENT
Wood Slat Wall Panels
Star Sapphire Velvet Couch
Wall Color: Garden Gate by Sherwin Williams

Related
منبع: https://www.brepurposed.com/english-pub-inspired-basement-reveal/?utm_source=rss&utm_medium=rss&utm_campaign=english-pub-inspired-basement-reveal&utm_source=rss&utm_medium=rss&utm_campaign=english-pub-inspired-basement-reveal