In fact, do you remember this one outlet on the mural wall that I showed y'all yesterday?
So that meant they all had to be moved. There were a few people who were very confused about why I decided to move the outlets down on the wall instead of up. Moving them down meant that they would be behind the cabinets. But I didn't want all of those outlets to show on the mural, so I decided to move the junction boxes down, install the outlets inside the cabinets, and then use countertop grommet outlets spaced out on the 20-foot-long countertop.
So when I installed the cabinets, I marked and cut little squares out of the backs of the cabinets where the junction boxes were. You can see the little cut out squares in every other cabinet in the photo below. And because of how I installed the cabinets (you can read more about that process here), the cabinets stood away from the wall about an inch.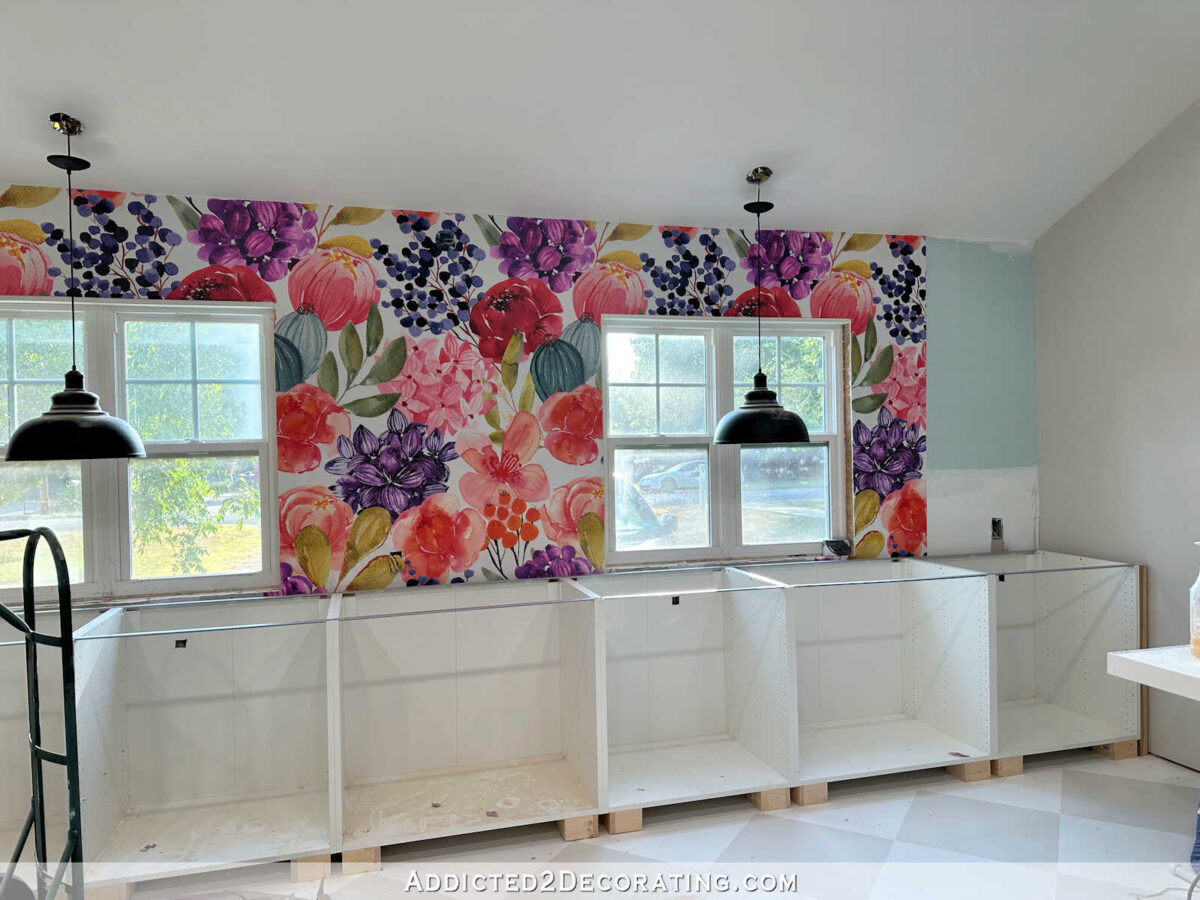 But then I decided to use IKEA Sektion cabinets instead of building from scratch, and those cabinet boxes alone are 30 inches high. So once I raised the boxes off of the floor with some little DIY feet (you can see how I did that here), and then added a countertop (you can see my DIY 20-foot countertop here), the new finished height was 34.25 inches. And suddenly, my junction boxes that were in the perfect position for a 30-inch-high countertop were now too low.
And then the grommet outlet plugs into the in-cabinet outlet.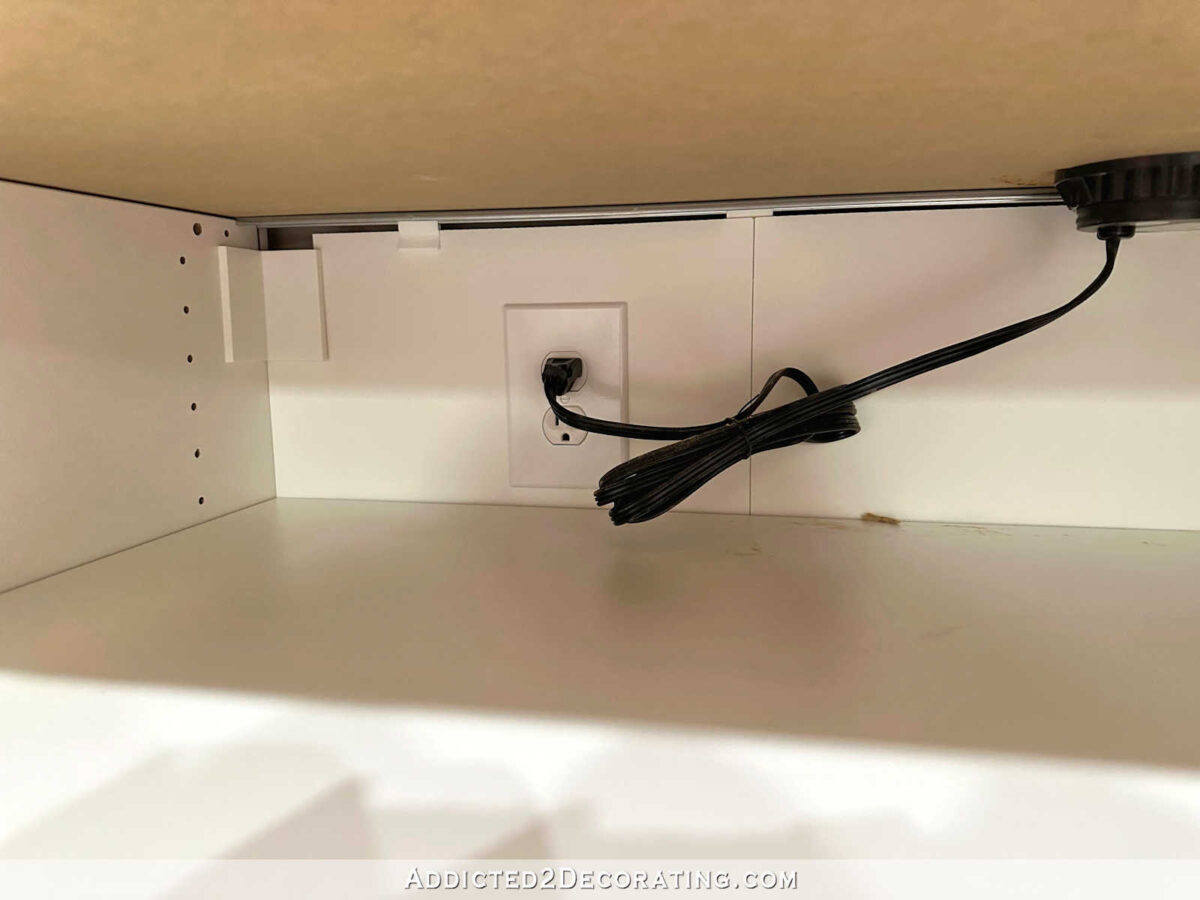 As of last night, all of the electrical stuff is finished on the mural wall of the studio. This has been quite the project that started with having to remove drywall, remove spray foam insulation, move six junction boxes, rewire the outlets and switch, and fill in spray foam insulation that had to be removed.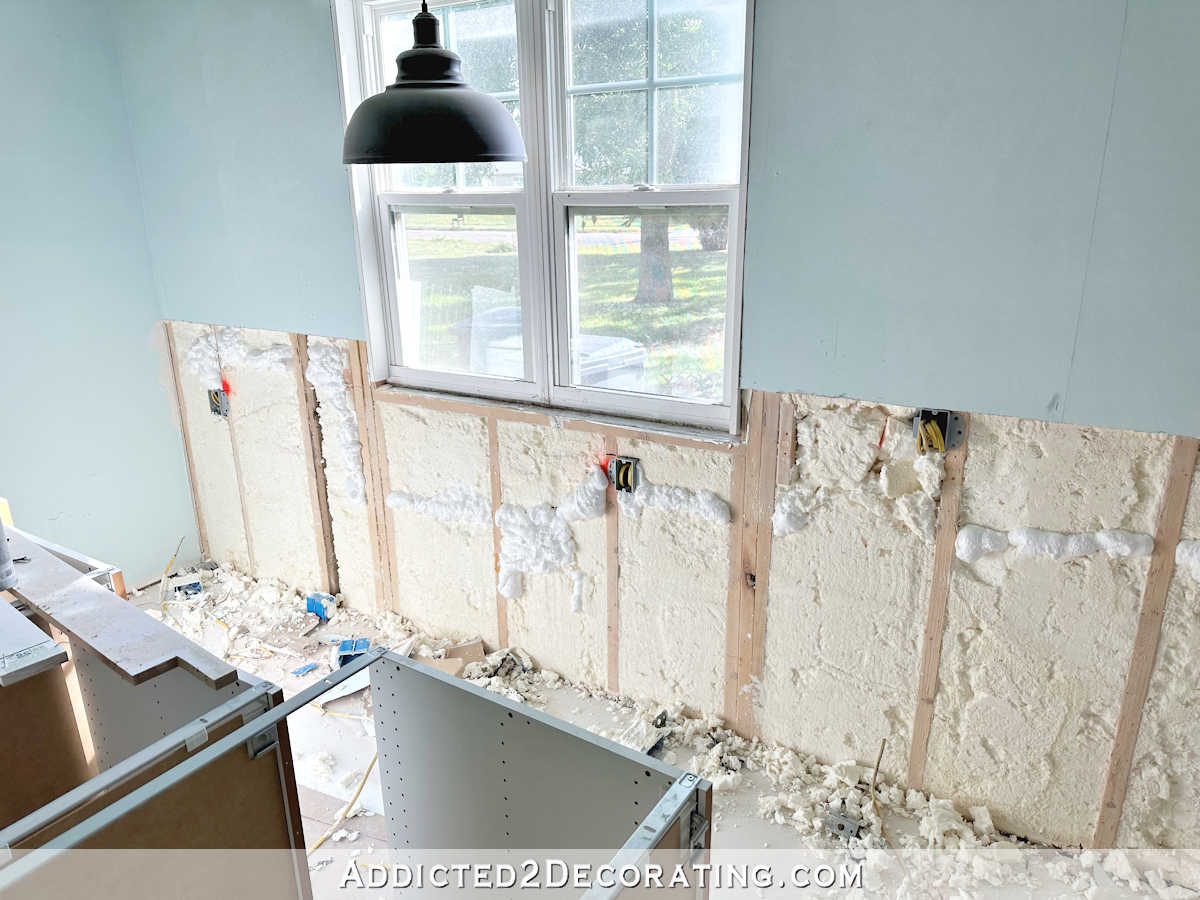 Unfortunately, the bits that fit my little palm router aren't long enough to cut through both layers (the laminate flooring boards and the MDF base) of the countertop. It was deep enough to cut all the way through the laminate flooring boards, but it only cut about 3/4 of the way through the MDF. So then I had to improvise. Using my hammer and a small flathead screwdriver as a chisel of sorts, I made some perforations around the perimeter of the hole. And then I used my hammer to whack the middle of the remaining MDF piece. With one good whack, the last circle of MDF came out.